AR700 LASER DISPLACEMENT SENSOR
The AR700 laser displacement sensor is Acuity's newest, high-resolution laser distance measurement sensor. Models vary in measuring range and can achieve resolutions better than 0.2 micron. Increased sampling speeds to 9.4 Khz satisfy the requirements of the road profiling industry.
Overview
OVERVIEW
Acuity introduces the AR700 series of laser displacement sensor for measuring position and object dimensions. The AccuRange 700 boasts output speeds to 9400 Hz and resolutions (model dependent) as low as one sixth of a micrometer. The unit is very compact, measuring approximately 1 x 2 x 3″ (25 x 50 x 75 mm).
SPEED
This Acuity digital sensor has selectable speeds up to 9400 Hz (when using 3-Byte Binary Data format). Don't be fooled by competitor's claims of higher speeds. Acuity laser distance sensors are unique and our specifications are straightforward. The device will in fact output 9400 distance readings in a single second. This is unlike our competitors who often quote the maximum sampling rate of their detector. This number is not real because the user will never see data output rates that high through serial or analog interfaces or the cumbersome controllers that are required to operate their sensor heads.
A special Trigger Mode permits users to initiate sampling via serial command or discrete hardware triggers. This trigger can be used for synchronizing multiple sensors. The maximum speed using the hardware trigger is reduced to 4500 Hz.
RESOLUTION
Optics and digital detectors have improved greatly over time and Acuity's AR700 laser distance sensor offers a three-fold improvement of resolution over its previous model. Resolution is the smallest increment of distance that can be detected by the distance sensor. AR700 sensors specify a 0.005% (of the measurement span) resolution for all models in this series. Resolutions are measured on targets of 85% diffuse reflectance (white) and in static conditions. Contact us if you have any questions about our specifications.
COMPACT SIZE
Measuring approximately under 8 cubic inches, this unit is ultra compact because it houses all electronics for measuring. No external controller or amplifier needed. Each sensor includes the sensor head and 6 feet (2 m) of cable. Note that longer-range sensors have longer mechanical enclosures. View the AR700 Data Sheet for more details.
Technical Data
TECHNICAL DATA
The Acuity AR700 laser displacement sensor employs triangulation measurement principles whereby it projects a beam of visible (or optionally, infrared) laser light that creates a spot on a target surface. Reflected light from the surface is viewed from an angle by a digital CMOS line scan camera inside the AR700 sensor. The target's displacement is computed from the image pixel data.
The AccuRange 700 series includes thirteen measurement ranges from 1/8th inch to 50 inches (3.2 mm to 1.3 m). The linearity specification is among the best in the industry, +/-0.03% of the sensor's measuring span.
This distance sensor, similar to the AR200 is standard with a variety of serial and analog outputs. On either RS232 or RS422, data formats include ASCII English, metric, native and two binary outputs. The sensor can output error codes for: Target too near, Target too far, Target not seen and Laser off. Analog outputs include a 4-20 mA current loop, 0-10V outputs and two NPN sinking limit switches. All parameters and settings are selectable from push-buttons on the sensor or through PC serial commands.
Accessories
AR700 LASER DISPLACEMENT SENSOR OPTIONS AND ACCESSORIES
The Acuity™ Touch Panel Display is a stand-alone terminal interface for use with Acuity laser distance sensors. These fully-enclosed units replace panel meters, alphnumeric displays and analog controllers by providing a modern interface through a full-color LCD and touch screen. The Touch Panel Display communicates with one or two Acuity sensors using their serial interfaces. Sensors can be easily configured using on-screen buttons to display and scale their distance outputs. Relative dimensions can be measured using a tare function. With dual RS232 serial inputs from two Acuity sensors, the touch panel serves as a thickness gauge and display, an application which previously demanded a PC computer and custom software programming. Using a single RS485 serial interface, the Panel can transmit thickness and dimensional information to external devices.
CONNECTIVITY KIT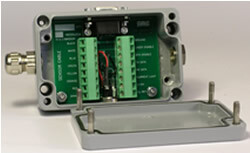 The AR700 laser measurement sensor comes with an un-terminated bundle of solder tail wires in a shielded cable. As an option, you can add a connectivity interface which provides a terminal block connection to the sensor cable. A second terminal block in the interface box allows user connections as needed.
A standard 9-pin D-SUB serial cable is provided with the Connectivity Kit. The interface has a jack to accept the plug from a power supply for 110-240 VAC (US or Euro plugs). The interface box itself is NEMA-4X and has sealed cable glands for feed-through. A key-switch interlock version of this connectivity kit is available to satisfy worldwide laser-safety regulations.
ROAD PROFILING OPTION
Acuity produces a bundle of options specifically targeting the needs of the road profiling community. These options include a 20 mW laser diode (visible or infrared, both Class 3B) and optimized firmware which permits the highest sampling rates on dynamically changing road surface colors.
LASER DIODE POWER AND FILTER UPGRADES
In some instances it is desirable to increase the output power from the sensor's diode. This is especially true when the sensor will be used outdoors or on very dark or shiny targets. The higher laser power generates a stronger return signal off the target surface. AR700 lasers that are standard with 1 mW visible diodes can be upgraded to 5mW visible RED. Acuity AR700 sensors standard with 5 mW visible lasers and can be upgraded to 20 mW visible diodes (Class 3b). Internal Bandpass filters improve sensor performance in sunny conditions or when measuring to radiating targets.
CABLES
Acuity offers different cable configurations to meet your special needs. For custom cable requirements, please let us know.
Images
Please complete this form to gain instant access to the item you requested. We respect your privacy and will only use your information to contact you regarding this literature inquiry.
PLEASE COMPLETE THIS FORM TO BE CONTACTED WITH SENSOR PRICING INFORMATION.
Thank you for your interest in receiving Acuity list prices. Our international business has grown considerably and we are no longer able to make pricing available directly through this website. Instead, please kindly complete this form and we will e-mail you a price list. For immediate responses, please call us or your local Acuity laser sensor distributor. Territories not covered by a local distributor are sold directly from our factory in Portland, Oregon, USA. Please note that international pricing may vary due to import costs, taxes, currency fluctuations, etc.
Please complete this form with correct information. We respect your privacy and will only use your information to contact you regarding your product inquiry.
ACUITY LONG RANGE AND HIGH ACCURACY TRIANGULATION LASER SENSORS
June 10, 2016
An existing Acuity customer has asked for a longer range, high accuracy laser triangulation single spot laser sensor to measure deflection. To keep the laser out of an area that can damage the laser sensor we created the AR700-2 Long range model. This AR700 model has the same footprint as the AR700 compact unit (similar to the…
WOODEN DOOR ON-LINE THICKNESS MEASUREMENT
February 19, 2016
One of Acuity's customers manufactures wooden door at a rate of over 4,000 doors a day. The quality, fit and finish of the door must be as perfect as possible. One of the issues doors can have is that they are too thick or too thin for a good fit in the door jamb. This…