A worldwide manufacturer of copper round stock wire and copper strips was looking to find a new solution for their copper thickness measurement. The company was currently using a diamond tip touch probe system, a contact form of measurement, to measure the thickness of the strips. But the manufacturer's very old contact gauges were becoming obsolete and increasingly difficult to get.
The company was also looking to use this time to upgrade their system and find a non-contact solution to measure their copper strip thickness, with material thickness ranging from 0.030" to 0.050". Their engineers were focusing in on a non-contact measurement approach, because they wanted a solution that was highly accurate, fast, and with the ability to be positioned far away from the surface of interest to avoid contact with the material.
Using non-contact sensors, the manufacturer was looking to receive accurate thickness readings while receiving measurements in a real time inline production process. The goal? To send digital thickness data to their Statistical Process Control (SPC) program to combine all measurement data into one source. Due to the small tolerances needed and high-speed environment, the company wanted highly accurate sensors with the ability to handle the challenges that come in an inline production process, where daily headaches can include production quality, lengthy changeover times, or unbalanced workloads.
Through a few discussions, Acuity engineers were able to select (2) AR700 – 0125 sensors, (2) Acuity connectivity kits, and (1) touch panel display to solve this manufacturer's application. Acuity engineers selected (2) AR700 – 0125 laser displacement sensors due to the thickness accuracy needed for the copper strips. The AR700-0125 sensors provide a measurement range of up to 0.125 inches while having the ability to be accurate to within 1 micron. Using two lasers to create a dual thickness measurement approach enables accurate measurements despite the up and down motion or vibration of the material. The dual sensor approach allows for accurate thickness measurements that does not rely on the need for a reference target.
The Acuity team also selected the Acuity Touch Panel Display for the manufacturer. As seen in the accompanying copper thickness measurement video, the touch panel display comes with prebuilt thickness software that is optimized for simultaneous readings between laser 1 and laser 2. Providing software that synchronizes both the lasers during a thickness measurement is important to accommodate material that could be moving or oscillating in the same plane as the sensors. Non-synchronized laser sensors could pulse at different phases, capturing the material at different positions, thus resulting in a falsely enlarged or diminished thickness calculation. Avoiding this non-synchronicity was critical for the manufacturer because their line moves at speeds of up to 700 feet per minute. Although not seen by the visual eye, the material is moving up and down slightly. Given the manufacturer's tolerances, providing software that can sync up the two lasers for dual thickness measurements was critical to produce an accurate reading.
In the past, the Acuity Touch Panel Display was only able to output thickness measurements to the display screen and to a log file. For this manufacturer, they wanted to send the measurement data to their SPC program, so Acuity utilized its newest feature of outputting the data via USB port. This feature enables the manufacturer to output the data straight from the touch panel into their data processing system. Along with the thickness software, the Acuity TPD is often selected due to its easy interface that is able to display multiple units of measurements (mm, inches decimal, inches fraction, feet, etc.) and set limits to visually display to the operator trending thickness measurements. This is also shown in the accompanying video.
For this manufacturer, maintaining the correct copper thickness measurement is critical to help ensure that their end users will receive copper strip products within their specified tolerance. This manufacturer sells into many industries, including the automotive industry, so ensuring thickness tolerance is critically important for doing business with these sectors. During a quick visit to the manufacturer in July 2021, Acuity learned that they have seen many benefits from the Acuity thickness system and are planning on retrofitting the system in multiple locations over the coming year.
AR700 Laser Displacement Sensor
The AR700 laser displacement sensor is Acuity's top of the line, most precise, laser triangulation sensor. The AR700 series contains models with measurement ranges from 0.125 inches up to 50 inches and resolutions as low as one-sixth of a micron. With sampling speeds up to 9.4kHz and linearity to within 0.03% of the measurement range, the AR700 is a versatile sensor for many challenging applications.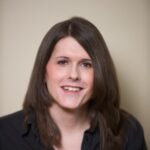 Sarah has been our technical support and sales engineer for 5+ years. If you've ever reached out to Acuity Laser for tech support, more than likely, Sarah is the one who helped you.