---
Measuring the thickness of polystyrene foam-extruded insulation boards
---
Non-contact laser displacement sensors used in continuous manufacturing environment
A manufacturer needed a reliable and accurate thickness profile of their foam insulation boards for quality control and material waste projects. The boards are composed of foam sandwiched between plastic film. The rigid boards are continuously produced and cut to length at subsequent stages in the process. The system is composed of two, opposing laser displacement sensors that act as non-contact calipers for thickness measurement.
The integrator plans to install this measurement system on a motorized, traversing linear slide so surface profiles can be collected. They know that a full thickness profile will help them to tighten the manufacturing process inputs and save on expensive petroleum-based polystyrene. Their goal is to produce panels to more strict dimensional tolerances.
In the video, a pair of Acuity AR700 laser displacement sensor measure the thickness of polystyrene board as it passes by. The sensors interface with a smart Touch Panel Display which calculates the thickness at 100 Hz based on the individual sensor distance measurements.
This calculated thickness is transmitted via RS485 to a nearby PC computer for archiving purposes. Once the sensors were properly fixtured directly above each other, with their emitted laser spots aligned, the demo took only 10 minutes to begin. The customer plans to use the solution with a linear stage to profile the thickness of board material in sections measuring 4 X 16 feet.
Related Products
AR700 Laser Displacement Sensor
The AR700 laser displacement sensor is Acuity's top of the line, most precise, laser triangulation sensor. The AR700 series contains models with measurement ranges from 0.125 inches up to 50 inches and resolutions as low as one-sixth of a micron. With sampling speeds up to 9.4kHz and linearity to within 0.03% of the measurement range, the AR700 is a versatile sensor for many challenging applications.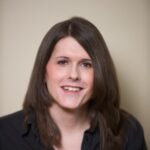 Sarah has been our technical support and sales engineer for 5+ years. If you've ever reached out to Acuity Laser for tech support, more than likely, Sarah is the one who helped you.