An existing Acuity customer asked for a longer range, high accuracy laser triangulation single spot laser sensor to measure deflection. To keep the laser out of an area that can damage the laser sensor, we custom-created the AR700-2 Long range model. This AR700 model has the same footprint as the AR700 compact unit (similar to the AR700-4).
The sensor can measure with accuracy from 5″ out to 7″ from the face of the laser sensor. The 2″ measurement span provide a resolution of 0.0001″ with a linearity of better than +/- 0.0006″ over the full measurement span of 2″. The AR700-2L has all the same command and communications features as the existing AR700 product line.
For those applications that require a large standoff distance and greater accuracy and resolution, the AR700-2L laser displacement sensor is a good fit for difficult applications.
Related Products
AR700 Laser Displacement Sensor
The AR700 laser displacement sensor is Acuity's top of the line, most precise, laser triangulation sensor. The AR700 series contains models with measurement ranges from 0.125 inches up to 50 inches and resolutions as low as one-sixth of a micron. With sampling speeds up to 9.4kHz and linearity to within 0.03% of the measurement range, the AR700 is a versatile sensor for many challenging applications.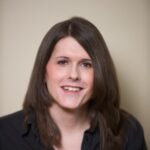 Sarah has been our technical support and sales engineer for 5+ years. If you've ever reached out to Acuity Laser for tech support, more than likely, Sarah is the one who helped you.