One of Acuity's customers manufactures wooden door at a rate of over 4,000 doors a day. The quality, fit and finish of the door must be as perfect as possible.
One of the issues doors can have is that they are too thick or too thin for a good fit in the door jamb. This customer is using 3 sets of Acuity AR700-4 laser displacement sensor in a dual opposed mode to make the thickness measurements to hold several thousand's of an inch as the doors move down the conveyor line.
The line speed is about 3 feet a second and the AR700 models can easily measure thickness over 500 samples per second to provide a complete profile of the door as it is processed.
Related Products
AR700 Laser Displacement Sensor
The AR700 laser displacement sensor is Acuity's top of the line, most precise, laser triangulation sensor. The AR700 series contains models with measurement ranges from 0.125 inches up to 50 inches and resolutions as low as one-sixth of a micron. With sampling speeds up to 9.4kHz and linearity to within 0.03% of the measurement range, the AR700 is a versatile sensor for many challenging applications.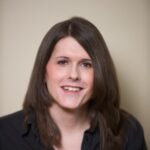 Sarah has been our technical support and sales engineer for 5+ years. If you've ever reached out to Acuity Laser for tech support, more than likely, Sarah is the one who helped you.