Laser Sensors Are Used to Monitor the Loop Control in Production Processes
As a large roll of material is cut and wound off onto smaller rolls, it is important to monitor the position of the loop between the two rolls. If one coil is moving too fast or slow, excessive tension of the loop can occur causing the loop to snap, creating scrap.
To avoid this issue, laser sensors are used to monitor the distance of the loop between the two rolls to maintain loop control position measurement. The non-contact laser is mounted above the loop and pointed down to measure the bottom of the loop. The distance reading of the laser gives live feedback to the windups to slow down or speed up. This loop control position monitoring is used to avoid excessive tension or slack of the loop to keep production processes flowing smoothly.
Acuity rangefinders have the ability to be mounted up high in remote locations to provide accurate long distance measurements and stay out of the way of production processes. With long distance sensors with sampling rates up to 30 kHz and accuracy to 3mm, our rangefinders are versatile sensors for almost all long distance measuring applications types.
Similar loop control applications are used throughout factory automation processes. Other Acuity customers are using AR1000 distance sensors to monitor the positional control of loops in the roofing material process. The AR1000 distance readings are taken via analog output directly into the customer's master PLC to measure the rate of material usage to maintain factory automation control.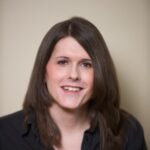 Sarah has been our technical support and sales engineer for 5+ years. If you've ever reached out to Acuity Laser for tech support, more than likely, Sarah is the one who helped you.