Laser Rangefinders for Lumber Width Measurement
---
Non-Contact Laser Distance Width Measurement at Sawmills
Acuity's rangefinders are used at sawmills to measure the width of lumber boards while sorting on a conveyor line. A customer has an AR1000 laser distance sensor mounted in line with the board and housed under a higher conveyor area approximately 10 feet away. When the board hits a stop for inspection, the AR1000 measures the opposite side for accurate board width measurement to within 3 mm of accuracy. The AR1000 is able to take accurate measurements despite the different types of lumber boards the saw mill is producing (rough cut oak, pine and poplar boards).
Additionally, the customer is using a pre-programmed Acuity touch panel display as a cost effective solution for the operator to sort the boards to the correct assembly line.  The touch panel is stored up in the control cable and displays the readings in fractions or decimal inches for ease of operator use.
Similar lumber dimensional applications can be done with our laser rangefinders. The rangefinders ease of direct interface with PLC controls allows for various types of dimensional control in automated applications.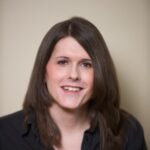 Sarah has been our technical support and sales engineer for 5+ years. If you've ever reached out to Acuity Laser for tech support, more than likely, Sarah is the one who helped you.