Non-Contact Long Distance Laser Rangefinders Used for Bridge, Offshore, and Hoist Crane Position Monitoring
Many industries use large overhead cranes to move heavy products. These cranes can be automated and monitored using long distance laser rangefinders. Our long distance lasers help to improve crash avoidance, automated retrieval, and maintain equipment more proactively and efficiently.
Common examples of laser rangefinders used in crane positioning include overhead crane position monitoring at steel mills during the transportation of heavy coils, crane monitoring during the hoisting of large equipment, and bridge crane positioning for many industries including the ship docking/cargo transportation industry during the unloading of pallets and containers.
Our long distance rangefinders are suited for crane positioning applications in many environments. The sensors rugged package with NEMA-4, IP65 & IP67 ratings that can be used both indoors and outdoors allowing sensor versatility to meet your criteria. The AR3000 laser distance sensor is commonly used to measure the position of the crane's trolley along these longest stretches at ranges up to 3,000 meters.  The AR1000 laser distance sensor commonly monitors the side-to-side position and vertical position of cranes as a reliable cost effective monitoring option.
Related Products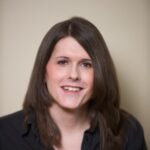 Sarah has been our technical support and sales engineer for 5+ years. If you've ever reached out to Acuity Laser for tech support, more than likely, Sarah is the one who helped you.