In the automotive manufacturing industry, engineers frequently use a precision scanning confocal displacement sensor to inspect the surface of a steel brake line tip for scratches and defects.
White-light distance sensors can measure distance and position to within tens of nanometers. The measurement pen aims down to the sample that is moved on a linear XY stage, and the scanning station includes a turret of several confocal measurement pens. Users can also order single-channel systems.
CCS Prima Confocal Displacement Sensor
The CCS white light confocal displacement sensor is the most precise measurement system from Acuity. Using white light LED, the system employs a unique measuring principle that separates emitted light into different colors and then uses a detector to identify the reflected color signal.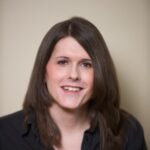 Sarah has been our technical support and sales engineer for 5+ years. If you've ever reached out to Acuity Laser for tech support, more than likely, Sarah is the one who helped you.