A system integrator in Croatia worked closely with a steel pipe manufacturer to develop a system for measuring the length of hot steel pipe during production.  The clever solution incorporates an AR1000 laser distance sensor to measure to the leading edge of the pipe during cutting.
The high-speed saw blade serves as the Zero Point Reference during the cutting process.  The pipe is stationary during cutting and gives a very stable reading.
A non-contact solution was required because the pipe is quite hot and still glowing orange. The laser spot is perfectly aligned to measure to the edge of the pipe, on the surface between the inner and outer diameters. The rangefinder is installed sufficiently far away from the heavy, moving pipe.
This steel pipe manufacturer plans to use this length measurement solution on all of its production lines in the future because it saves time and reduces worker exposure to the hot material. For more information about this novel application of the laser distance sensor to measure pipe length, contact Contact Acuity Laser or Axium Europa d.o.o.
Related Products
AR1000 Laser Distance Sensor
The Acuity AR1000 laser distance sensor can measure up to 30 meters on natural targets and up to 150 meters with a retroreflective target with an accuracy of ± 3 mm. This rugged sensor is built for tough, industrial environments and applications such as fill level measurement and material height monitoring.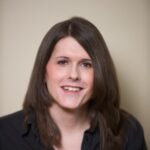 Sarah has been our technical support and sales engineer for 5+ years. If you've ever reached out to Acuity Laser for tech support, more than likely, Sarah is the one who helped you.