In order to keep commerce moving, railroad companies as well as shippers rely on inspections and preventative maintenance to keep trains moving safely. Train rails are regularly inspected for defects and one of the criteria for train rail inspections is rail gauge. In the United States, the standard rail gauge is 56.5 inches and it is important that rails do not get closer than 56 inches or further than 58 inches.
Rail gauge is measured 5/8 of an inch under the top of the ball of the rail. For many years, manual measurement tools have been used and trusted but this process can take much longer. Fast and highly accurate sensor inspections can be done with the use of a pair of AP820 scanners. Engineers can inspect miles of rail gauge without even leaving their inspection vehicle. This is a highly valuable tool that can allow for more frequent and precise measurement of rail gauge to ensure the safety of trains.
Related Products
AccuProfile 820 Laser Scanner
The AP820 2D laser scanner series offer a large selection of case sizes, measuring ranges, and diode/accessory options to be used in a wide range of measurement applications. The 2D/3D sensor performs very well on shiny or jagged targets and in environments with high ambient light. The sensor's auto gain and high dynamic range allow for measurement in complex applications, even edge scanning on sharp targets.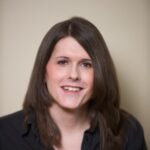 Sarah has been our technical support and sales engineer for 5+ years. If you've ever reached out to Acuity Laser for tech support, more than likely, Sarah is the one who helped you.