Hot Steel Slab Width Measurement with Laser Sensors
---
Non-Contact, Dimensional Measuring of Continuously-Casted Steel Using Lasers
Laser sensors are commonly used in steel hot mills because they need an accurate, non-contact method of determining the position or dimensions of materials that are too hot to touch. Many of Acuity's customers are OEM integrators who service the specialized needs of the Steel and Aluminum Mill customers. They understand the challenges of using precision metrology equipment in hot mill environments. Mills may be very cold when not operative and extremely hot while steel is produced.
These machine builders use dual AR700-50 laser triangulation sensors in their width measurement systems that they install in worldwide steel mills. The application uses these sensors equipped with 20 mW infrared laser diodes to ensure a strong return signal off dark (cooled) or bright radiating steel (hot). The sensors are configured with narrow bandpass filters to eliminate the effects of emissive radiation from hot steel.
The sensors are installed in special, rugged enclosures that protect them from intense heat and potentially dirty environments. The housing is primarily water-cooled and forced air is used at the location of the laser sensor's windows. The housed sensors are fixtured to heavy-duty floor-mounted poles. The sensors are aligned to each other, straddling the slab caster or roller table at the entry or exit to the reheat furnace. As the slab passes between the two sensors, the device measures the distance to the edges and calculates the material width.
This width measurement solution has been implemented throughout the United States, Canada, China, Germany, and other countries. For more information, please contact Acuity and we will be glad to refer you to one of several integrators who can implement a slab-width system in your mill.
AR500 Laser Position Sensor
The AR500 is a compact triangulation laser sensor that excels in its versatility. The AR500 is available with measurement ranges from 5mm (0.2 in.) to 1000mm (39.4 in). The red or blue laser is available with an assortment of power options (from Class 2 to 3B) for applications that require a brighter laser. A factory installed internal heater, air jacket, or splash guard is available for challenging environments.
AR700 Laser Displacement Sensor
The AR700 laser displacement sensor is Acuity's top of the line, most precise, laser triangulation sensor. The AR700 series contains models with measurement ranges from 0.125 inches up to 50 inches and resolutions as low as one-sixth of a micron. With sampling speeds up to 9.4kHz and linearity to within 0.03% of the measurement range, the AR700 is a versatile sensor for many challenging applications.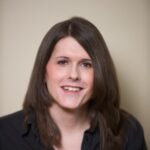 Sarah has been our technical support and sales engineer for 5+ years. If you've ever reached out to Acuity Laser for tech support, more than likely, Sarah is the one who helped you.