Confocal Sensors Measure the Thickness of Plexiglass
Confocal Displacement Sensors Are Used to Measure Translucent Materials
The thickness measurement of plexiglass sheet is a very common application for confocal displacement sensors. These products are often extruded between two polished rollers to squeeze the material into the desired thickness. This thickness must be measured and verified for in-process quality control.
While any laser displacement sensor might measure to opaque polymer sheets, it is the translucent or transparent materials that require confocal sensors. While others claim that plexiglass thickness can be done accurately with blue laser triangulation sensor, the confocal white light displacement sensor are the most reliable form of measurement for this material. One or two measurement probes are aimed perpendicularly to the plexiglass sheet and the material must be stabilized during measurement, so its vibration amplitude does not exceed the span of the sensor system.
CCS Prima Confocal Displacement Sensor
The CCS white light confocal displacement sensor is the most precise measurement system from Acuity. Using white light LED, the system employs a unique measuring principle that separates emitted light into different colors and then uses a detector to identify the reflected color signal.
AR500 Laser Position Sensor
The AR500 is a compact triangulation laser sensor that excels in its versatility. The AR500 is available with measurement ranges from 5mm (0.2 in.) to 1000mm (39.4 in). The red or blue laser is available with an assortment of power options (from Class 2 to 3B) for applications that require a brighter laser. A factory installed internal heater, air jacket, or splash guard is available for challenging environments.
AR550 High Speed Laser Sensor
The AR550 high speed laser sensor is Acuity's fastest triangulation device for dimensional and distance measurement. At sampling rates up to 70kHz, these sensors are typically used for applications that demand high speed such as vibration measurements, scanning of roads, vehicle crash test, and ballistic measurements.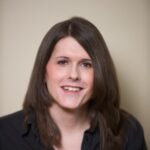 Sarah has been our technical support and sales engineer for 5+ years. If you've ever reached out to Acuity Laser for tech support, more than likely, Sarah is the one who helped you.