Non-Contact Lasers for High Speed, Longitudinal Road Profile Measurement​
---
Collect real-time continuous highway-speed measurements to calculate International Roughness Index (IRI) or Ride Number (RN) by utilizing road profiling systems
Road profiling systems incorporate non-contact laser sensors to measure the distance to the road surface and accelerometers to compensate for the effects of the vehicles movement. The measuring tasks are especially challenging for most lasers because road surfaces present many dynamically-changing targets including tarmac, concrete, yellow striping, white striping, etc.
Acuity Laser has developed special lasers to maintain a consistent sampling rate over varying targets. Our sensors are extremely accurate and cost-effective for all surface types, vehicle speeds, vibration, sunlight, and temperature conditions encountered in profilometry applications.
Profiling has become a crucial practice for transportation departments throughout the world. Road builders, contractors and even US state DOTs (Departments of Transportation) are responsible for gathering statistical information on road surfaces including the longitudinal profile, mactrotextures, microtextures and roughness to determine coefficients of friction. Acuity has deployed hundreds of laser sensors for road profiling worldwide, including our AR700 laser displacement sensor.
In the past, pavement roughness data was collected in highway systems every year. Modern road profilers are equipped with on-board computers that connect to lasers and accelerometers mounted to the vehicle. The system typically has a system file containing all roadway information. Often two people are used during the data gathering process, a driver and an operator. Roughness testing is done while traveling at normal highway speed along a continuous route within a pre-determined route from beginning to the end, often within a pre-set government boundary.
Click here to read more about the use of road profiler systems by government transportation agencies.
Related Products
AR700 Laser Displacement Sensor
The AR700 laser displacement sensor is Acuity's top of the line, most precise, laser triangulation sensor. The AR700 series contains models with measurement ranges from 0.125 inches up to 50 inches and resolutions as low as one-sixth of a micron. With sampling speeds up to 9.4kHz and linearity to within 0.03% of the measurement range, the AR700 is a versatile sensor for many challenging applications.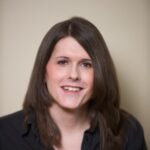 Sarah has been our technical support and sales engineer for 5+ years. If you've ever reached out to Acuity Laser for tech support, more than likely, Sarah is the one who helped you.