Confocal Displacement Sensors Measure Circuit Board Defects
---
Confocal Displacement Sensors Are Used to Scan the Backdrill Holes of Circuit Boards
Circuit boards have complex designs and their sizes are becoming tinier and tinier. Companies that specialize in PCB inspection systems need ultra-precise measurement sensors to profile tiny features like holes, solder joints, pin locations, etc.
One integrator uses the CCS Prima Confocal Displacement Sensor to scan the back surface of circuit boards to detect and measure defects in back drill holes. The position and depth of these holes are critical to their proper function. The narrow beam of the confocal sensor traces the complete profile of the board and can measure the true depths of these narrow holes. This is something triangulation laser sensors can't do because of occlusion of the reflected beam path.
The same technology is used to measure the tiny connector pins for the detection of missing, bent, crushed or misaligned pins and connectors.
CCS Prima Confocal Displacement Sensor
The CCS white light confocal displacement sensor is the most precise measurement system from Acuity. Using white light LED, the system employs a unique measuring principle that separates emitted light into different colors and then uses a detector to identify the reflected color signal.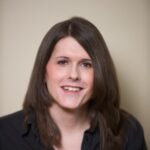 Sarah has been our technical support and sales engineer for 5+ years. If you've ever reached out to Acuity Laser for tech support, more than likely, Sarah is the one who helped you.