Laser Sensors Measure the Position of Elevators Between Floors
The design integrators for the Minneapolis Public Library selected Acuity laser rangefinders to monitor the position of their elevators. The laser rangefinders were installed at the base of the elevator shaft and aimed upward to a target affixed to the bottom of the elevator cart.
The laser rangefinders were used at a sampling rate of 100 Hz to precisely monitor the elevator position. The position monitoring data was used in the software controlling system to display illuminated text. Story titles of recently checked-out books were displayed in large illuminated text as the elevators move between floors.
Our rangefinders are used in similar elevator positioning applications. These applications have ranged from indoor elevator position measurements to outdoor position tracking of metallic elevators over a 200-meter range.
Related Products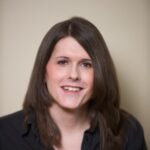 Sarah has been our technical support and sales engineer for 5+ years. If you've ever reached out to Acuity Laser for tech support, more than likely, Sarah is the one who helped you.