Long-Range Distance Meter for Bridge Cranes
---
Accurate Distance Measurements for Bridge Cranes in Busy Seaports
Monitoring the position of trollies and hoists on bridge cranes in busy seaports requires accurate distance measurements afforded by our laser distance sensors. Laser distance meters often replace damaged encoders. The position is continually monitored for crash-avoidance and for automated retrieval systems.
Industry Example:
The Cargo Transportation Industry is relentless about saving time and space, and they demand fast turn-around of their ships while in port and attempt to make the most efficient use of space on their cargo vessels to maximize profits.
One way they do this is by automating much of the loading and unloading of containers and pallets from ships. Cranes do the heavy lifting and many are operated by skilled workers. Acuity rangefinders are used to measure the location of a trolley on a bridge crane, location of a crane hoist lowering onto a container, the height of a payload relative to the crane, or cargo detection when a container is lifted off a chassis to automate much of the handling process.
Related Products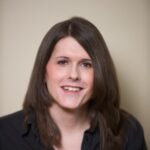 Sarah has been our technical support and sales engineer for 5+ years. If you've ever reached out to Acuity Laser for tech support, more than likely, Sarah is the one who helped you.