Laser Rangefinders Measure Cut-to-Length for Steel Bars
---
Laser Sensors Measure Cut-to-Length by Sensing the Position of the End Relative to the Distance to a Saw Blade
A large steel producer makes products in various shapes and sizes by cut-to-length measurement techniques. Round bar stock is created by cutting a continuously-cast bar to specific lengths. Bar is fed down a roller conveyor and a laser distance sensor (AR1000) measures the position of the end relative to the distance to a saw blade. The length is displayed on a screen in a remote operator's booth as the distance data is transmitted via 4-20mA current loop signal.
The AR1000 measures to the leading edge of the steel bar. The temperature of the bar may be as high as 1100°F and the accuracy is 2 mm.
Cut-to-length applications are a common distance measuring application for our long distance sensors. Our sensors are used to replace worn out encoders or to offer an accurate non-contact measurement solution. Our long distance sensors offer accurate long distance readings in order to be mounted in a safe location for a long lasting solution. Customers can send signals directly from the laser or our touch panel display to activate the saw to start the cutting process.
In many cases, our 8″ touch panel display can help any cut-to-length application be a few taps away from an easy plug-and-play solution. We've outlined how to quickly solve measurement challenges in an article & video with a brief focus on cut-to-length.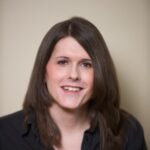 Sarah has been our technical support and sales engineer for 5+ years. If you've ever reached out to Acuity Laser for tech support, more than likely, Sarah is the one who helped you.