Laser Rangefinders Automate the Cattle Industry
As a means of automating livestock measurement for cows growing in feedyards, a major beef technologies company from Texas decided to use non-contact measurement by using Acuity laser rangefinders.
Historically in the cattle industry, determining how long to feed cattle and when to market them was done by the feedyard manager subjectively evaluated an entire pen of cattle at a time. When a group or lot of cattle first arrived at the feedyard, the manager went out to their pen and looked at or "eyeballed" those cattle and made a guess at how long he should feed them. Today, using the AR1000 laser distance sensor, the feed manager can collect metrics for each cow by measuring "hip height", a major indicator for the size of the cow.
The engineers position the AR1000 laser distance sensor on the ceiling and aim the laser spot down to the floor. The sensor is "zeroed" and when a cow passes underneath the laser sensor, the system captures the distance to the top of the cow's back (hip height) and provides real-time livestock measurement with sensors.
Related Products
AR1000 Laser Distance Sensor
The Acuity AR1000 laser distance sensor can measure up to 30 meters on natural targets and up to 150 meters with a retroreflective target with an accuracy of ± 3 mm. This rugged sensor is built for tough, industrial environments and applications such as fill level measurement and material height monitoring.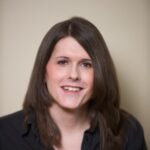 Sarah has been our technical support and sales engineer for 5+ years. If you've ever reached out to Acuity Laser for tech support, more than likely, Sarah is the one who helped you.