Schmitt Industries, Inc. (NASDAQ: SMIT) announced the launch of a new website for its Acuity Laser product line. The newly redesigned website offers quick and easy access to essential information and features for Acuity's non-contact laser measurement products.
Acuity's mission is to help customers provide solutions to improve business practices, efficiency, and quality control through the use of short range sensors, long distance sensors, confocal sensors, and laser scanners. Acuitylaser.com provides a streamlined design, improved functionality and rich content that will help carryout this mission and connect customers to our world class products and solutions.
"During this COVID environment, the team continues to focus on long-term goals to strengthen the business. This website is one example of the work the team is doing. This website launch is exciting as it provides a more robust platform to better provide solutions for our customers and partners," said Michael Zapata, Chief Executive Officer of Schmitt Industries. "We believe that this new site will allow our visitors to have a more informative experience as we continue to grow and increase our market presence with Acuity's world class lasers."
Click here to read the full press release from Schmitt Industries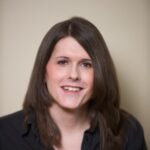 Sarah has been our technical support and sales engineer for 5+ years. If you've ever reached out to Acuity Laser for tech support, more than likely, Sarah is the one who helped you.