Acuity offers a variety of long range sensors for accurate, non-contact measuring. These distance measurement lasers utilize pulsed time-of-flight measurement principles to accurately measure distances. We've created a new comparison overview video to introduce each of our long range sensors.
Introducing our entry-level long-distance sensor, the AR1000. This sensor can measure up to 30 meters on natural targets and up to 150 meters with a retroreflective target with an accuracy of ± 3 mm. This rugged sensor is built for tough, industrial environments and applications such as material length measurement and material height monitoring.
Up next, introducing our most accurate long-range sensor, the AS2100. The sensor can measure natural targets up to 100m away and Acuity reflective targets up to 500m away with an impressive accuracy of ± 1mm. The AS2100 is designed to work well outdoors, in bright lights, and even on difficult targets such as hot or dark surfaces, making it versatile for the most demanding applications.
Next, introducing our highest speed sensor, the AR2700. A class 1, eye safe sensor that is designed for applications needing incredibly high speed. With sampling rates at 40kHz and ranges up to 70 meters, common applications include traffic applications or altitude measurements.
Lastly the AR3000 – the longest-range sensor in the mix. The AR3000 is a Class 1, eye safe sensor that can measure out to 300M on natural targets, and 3000M on reflective targets. It is built for those applications needing that extra-long range, while still receiving an accurate reading. Applications include ship docking positioning applications, position surveillance of vehicles and ships, process surveillance in steel and roller plants, and laser altimeter measurements.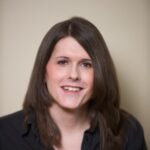 Sarah has been our technical support and sales engineer for 5+ years. If you've ever reached out to Acuity Laser for tech support, more than likely, Sarah is the one who helped you.