Dual Thickness Laser Measurement of Aluminum
In the rolling mill process, the aluminum starts as an ingot.  As the ingot gets squeezed down into a thinner and thinner sheet of aluminum, the operator needs to know the thickness of the sheet in order to determine the correct size. In some cases, the line is stopped and the operator uses large throated calipers and micrometers to measure the thickness at that time.
Measuring the thickness with conventional precision instruments is not very efficient nor safe in some instances. Acuity has designed the AR700 laser displacement sensor for use on a mechanical caliper slide that positions two dual opposed lasers around the sheet — over and under — while it's moving past the operator measuring the thickness to within .001″.
The thickness measurement is displayed on the Acuity Touch Panel Display so the operator can adjust the rolling process while the sheet is moving. This allows a more accurate finished product, a more efficient process with less line storage and much better operator safety.
AR700 Laser Displacement Sensor
The AR700 laser displacement sensor is Acuity's top of the line, most precise, laser triangulation sensor. The AR700 series contains models with measurement ranges from 0.125 inches up to 50 inches and resolutions as low as one-sixth of a micron. With sampling speeds up to 9.4kHz and linearity to within 0.03% of the measurement range, the AR700 is a versatile sensor for many challenging applications.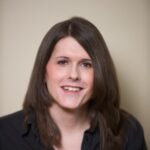 Sarah has been our technical support and sales engineer for 5+ years. If you've ever reached out to Acuity Laser for tech support, more than likely, Sarah is the one who helped you.