Laser Measurement Sensors for Engine Vibration Measurement
Acuity's AR100 and AR200 compact laser triangulation sensors are commonly used to monitor and calculate the vibration created by an engine in testing labs. Our cost effective sensors are placed at various sections of the engine to measure the vibration displacement in multiple engine locations.
Laser measurement of engine vibration is preferred over other types of measurement because it is completely non-contact.  That allows you to install the sensors away from the engine. Devices such as accelerometers need to be attached to the vibrating parts, and that extra mass affects the vibration measurement, making data less accurate. Acuity lasers are extremely precise, and they can give you the accuracy you need without affecting the results.
Acuity's AR100 is a common sensor used for this application because of its fast, 9.4kHz sampling rate, compact size, and precision at a cost-effective price.
Related Products
AR100 Super Compact Laser Triangulation Sensor
The AR100 is one of the smallest laser measurement sensors in the world. The ultra-compact AR100 comes with ranges from 10mm (0.4 in.) to 500mm (19.7 in.) with a single case size. It can take 9,400 measurements per second and has a linearity of ± 0.05% of the full measurement range for most models. In short, the AR100 is perfect for applications with tight size and mass budgets that can't sacrifice performance.
AR200 Laser Measurement Sensor
NEW FOR 2023 – AR200 Now Nearly Twice as Accurate
The AR200 laser measurement sensor is a compact, durable, and reliable sensor built for many industries including the lumber, medical and high-tech industries. The AR200 sensor consists of five different models with ranges up to 100 mm (4 in) and accuracies down to 6-microns to satisfy precise measuring requirements.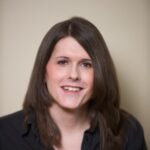 Sarah has been our technical support and sales engineer for 5+ years. If you've ever reached out to Acuity Laser for tech support, more than likely, Sarah is the one who helped you.