Cement and Mineral Industries Use Laser Rangefinders
---
The AR2500 Is Used for Profiling Rotary Kilns for Shape and Runout
Acuity's laser rangefinders have unique benefits for certain applications that cannot be met with other products. Some engineers specify high speed sampling and high accuracy. For these requirements, Acuity offers the AR2500.
Several global equipment providers to the cement and minerals industries demand the AR2500 for a very special application. They affix the AccuRange distance laser meters to a tripod and aim it at a rotary kiln. As the large tube turns, they capture its profile data on a computer. Back at the office, they recreate the shape of the kiln and diagnose runout and potential shape deformation problems.
In a similar application, engineers measure the position and vibration of steel connecting collars on clinker kilns.
AS2100 Accurate Distance Sensor
The AS2100 is a highly accurate laser distance sensor that is designed to work well outdoors, in bright lights, and even on difficult targets such as hot or dark surfaces. With the ability to take accurate measurements (± 1 mm) from distances up to 500 meters away, and a measurement frequency of up to 250 Hz, it is the perfect laser for a wide range of applications.
AR2700 High-Speed Long Range Sensor
Acuity Laser's ultra-compact rangefinder model. This eye-safe rangefinder has a measurement frequency of up to 40 kHz and can measure distances to natural targets up to 70 meters away or to retroreflective targets 270 meters away. This laser is best for applications that demand high sampling rates.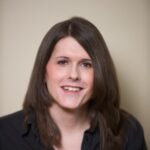 Sarah has been our technical support and sales engineer for 5+ years. If you've ever reached out to Acuity Laser for tech support, more than likely, Sarah is the one who helped you.