Laser Distance Sensors Measure Length of Cut Lumber
Laser rangefinders are used to measure the length of lumber to ensure that the boards are cut to the correct length. This speeds up the process and eliminates the need for marking up the boards. While other methods of end-tallying lumber rely on human judgment or estimations, using laser measurement sensors guarantees that boards are measured and cut with extreme accuracy.
From measuring log length directly off the truck, during the debarking process, or on buckling lines, Acuity's laser rangefinders are commonly used in many cut to length log/lumber applications. Acuity rangefinders are able to handle harsh weather conditions with suitable enclosures for high risk locations and extreme weather.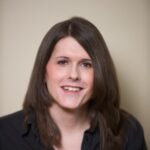 Sarah has been our technical support and sales engineer for 5+ years. If you've ever reached out to Acuity Laser for tech support, more than likely, Sarah is the one who helped you.