Concrete Block Profile Measurement Using the AR700 Laser Sensor
---
In-Process Quality Assurance for Uniform Height of Concrete Pavers and Wall Blocks
Manufactured architectural concrete pavers and wall blocks are growing in demand because they last longer than site-poured concrete and offer fantastic choices of color, shape and texture. Furthermore, concrete pavers are relatively simple to install and do not require a mason's training.
An OEM machine maker who has for years been making equipment for the concrete block industry is addressing a quality assurance issue by integrating Acuity laser displacement sensors into a non-contact height measurement system in order to measure block height. Using AR700 displacement sensors, the system measures the height of molded concrete blocks as a conveyor passes them beneath a measurement archway.
The measurement environment is industrial in nature and the integrator took steps to block airborne dust from collecting on the sensitive optics of the laser sensor. The product, called the "Block Qualifier", is placed in service downstream from the block casting machine. Uncured bricks are placed on a steel palette which is conveyed beneath the archway of the Block Qualifier system. As it passes beneath, the AR700 sensors measures block height by gauging the height profile of the blocks. This information is displayed on an operator's screen and processed in software algorithms to determine if they are within dimensional specification.
Related Products
AR700 Laser Displacement Sensor
The AR700 laser displacement sensor is Acuity's top of the line, most precise, laser triangulation sensor. The AR700 series contains models with measurement ranges from 0.125 inches up to 50 inches and resolutions as low as one-sixth of a micron. With sampling speeds up to 9.4kHz and linearity to within 0.03% of the measurement range, the AR700 is a versatile sensor for many challenging applications.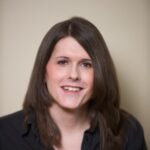 Sarah has been our technical support and sales engineer for 5+ years. If you've ever reached out to Acuity Laser for tech support, more than likely, Sarah is the one who helped you.