Laser Distance Sensors Can Be Used as Laser Altimeters
---
The AR3000 Has Been Used by NASA and UAV Manufacturers to Create Laser Altimeters
Un-manned Autonomous Vehicle (UAV) projects depend on sensors to provide spatial information for route planning and crash avoidance. A developer of UAVs selected AR3000 distance measurement sensors to measure the height above the ground, whether it was the landing strip, grass or trees.
A dual-sensor system can be used to give improved accuracy at both short range and long range distances. A 10 mrad version can be used for measuring between 0 – 50 meters, and a 2 mrad version can be used for 50 – 300 meters. NASA has also used Acuity's products to create laser altimeters for their landers.
AR3000 Distance Measurement Sensor
AR3000 distance measurement sensors are Acuity's longest-range models. Ideal for measuring positions of cranes and trolleys, the time-of-flight sensor can measure up to 300 meters to natural surfaces and up to 3,000 meters when using a retroreflective target.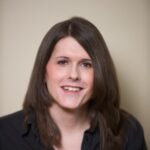 Sarah has been our technical support and sales engineer for 5+ years. If you've ever reached out to Acuity Laser for tech support, more than likely, Sarah is the one who helped you.