Laser Sensors Are Used for Height Measurements in Aerial and UAV Applications
---
Laser Rangefinders Verify Altitude and Profile the Ground Below
As aerial vehicles become autonomous, sensors are needed to verify altitude above landing strips. Also, low-flying aircraft may use laser rangefinders to profile the grounds below. The AR3000 distance measurement sensor, as well as other long range laser sensors, are often used in these applications.
AR3000 Distance Measurement Sensor
AR3000 distance measurement sensors are Acuity's longest-range models. Ideal for measuring positions of cranes and trolleys, the time-of-flight sensor can measure up to 300 meters to natural surfaces and up to 3,000 meters when using a retroreflective target.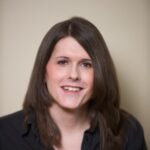 Sarah has been our technical support and sales engineer for 5+ years. If you've ever reached out to Acuity Laser for tech support, more than likely, Sarah is the one who helped you.