Laser rangefinders can be mounted at the top of silos and aimed down at the surface to measure the fill level of the material in the silo. Due to the long operating range of the sensors, Acuity's laser rangefinders are suitable for nearly any silo size. A wide variety of targets can be accurately measured including clear, plastic ball bearings.
Acuity laser distance sensors help to measure silo levels at any time to allow you to optimize your raw material stock. This becomes increasingly important as industries move to just-in-time manufacturing. Acuity laser sensors have the ability to produce accurate and repeatable level measurements over long distances, and are typically used in difficult applications where other systems aren't able to reliably measure at such a distance.
One additional benefit of using laser rangefinders are high accuracy at long distances while measuring instantaneous changes in the material level as small as 3mm. Other measurement methods struggle with changes that small. Our time of flight sensors measure bulk materials from clear plastic to wet gravel for true continuous level measurement.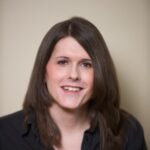 Sarah has been our technical support and sales engineer for 5+ years. If you've ever reached out to Acuity Laser for tech support, more than likely, Sarah is the one who helped you.