During the casting process, the AR700 laser displacement sensor is used to measure molten levels by monitoring the surface location of the aluminum mold. In order to obtain a homogeneous oxide-free cast, the height of the mold must be precisely monitored to keep an eye on fill level measurements.
AR700 sensors are used to precisely measure the fill height of the pour and communicate with the customer's PLC to monitor and automatically shut down the pour. Keeping the sensor in protective cooling enclosures keeps the sensor protected from the heat rising from the molten aluminum.
AR700 Laser Displacement Sensor
The AR700 laser displacement sensor is Acuity's top of the line, most precise, laser triangulation sensor. The AR700 series contains models with measurement ranges from 0.125 inches up to 50 inches and resolutions as low as one-sixth of a micron. With sampling speeds up to 9.4kHz and linearity to within 0.03% of the measurement range, the AR700 is a versatile sensor for many challenging applications.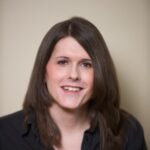 Sarah has been our technical support and sales engineer for 5+ years. If you've ever reached out to Acuity Laser for tech support, more than likely, Sarah is the one who helped you.