To determine the strength of aircraft structures, components are mounted on tensile testing machines and loads are applied to measure the amount of forces aircraft structures are able to withstand. This is done in order to verify design loads and specifications of the aircraft. Typically, the displacement of these structures under load were measured with dial indicators, but often the parts under test, break off or come apart during the tests and damage the precision dial indicators.
In support of this application, Acuity developed the AR700-2LR that provides a 2″ measurement range from a standoff of over 6″ with a linear accuracy of .0006″. The Acuity AR700-2LR laser displacement sensor has been demonstrated to have sufficient stand off as well as required accuracy to make these highly precise displacement measurements without being damaged during part failure. The AR700-2LR model has been proven to be very useful for carbon fiber components with long range displacements and deflections.
Related Products
AR550 High Speed Laser Sensor
The AR550 high speed laser sensor is Acuity's fastest triangulation device for dimensional and distance measurement. At sampling rates up to 70kHz, these sensors are typically used for applications that demand high speed such as vibration measurements, scanning of roads, vehicle crash test, and ballistic measurements.
AR700 Laser Displacement Sensor
The AR700 laser displacement sensor is Acuity's top of the line, most precise, laser triangulation sensor. The AR700 series contains models with measurement ranges from 0.125 inches up to 50 inches and resolutions as low as one-sixth of a micron. With sampling speeds up to 9.4kHz and linearity to within 0.03% of the measurement range, the AR700 is a versatile sensor for many challenging applications.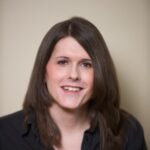 Sarah has been our technical support and sales engineer for 5+ years. If you've ever reached out to Acuity Laser for tech support, more than likely, Sarah is the one who helped you.