Turbine Alignment Using Laser Displacement Sensors
---
Measuring Turbine Blade Clearance with the AR700
Engineers at the Rock Island Hydroelectric Facility in Wenatchee, WA needed a precise, non-contact method for aligning the turbine blades in the system's housing.
They selected an AR700 laser displacement sensor to measure the distance from a known location on the turbine to the sidewall. The generator was slowly rotated to ensure consistent and acceptable clearance around the entire unit. Without encoders, they used magnetically-attached AR3000 laser rangefinders to detect the position of stationary wicket gates. At each gate position, they would trigger a measurement of the clearance.
AR700 Laser Displacement Sensor
The AR700 laser displacement sensor is Acuity's top of the line, most precise, laser triangulation sensor. The AR700 series contains models with measurement ranges from 0.125 inches up to 50 inches and resolutions as low as one-sixth of a micron. With sampling speeds up to 9.4kHz and linearity to within 0.03% of the measurement range, the AR700 is a versatile sensor for many challenging applications.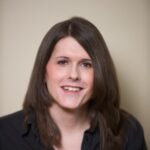 Sarah has been our technical support and sales engineer for 5+ years. If you've ever reached out to Acuity Laser for tech support, more than likely, Sarah is the one who helped you.