Laser Sensors Gather Information During Crash Tests
---
The AR500 Laser Position Sensor Has Been Used to Measure a Car's Deceleration
Engineers of automobile crash tests use the AR500 laser position sensor to measure the car's deceleration during the crash event. Analog signals from the sensors are used to produce a deceleration curve plotted against time.
The laser sensors, mounted directly to the vehicle, undergo the full impact of the crash, often up to 80 Gs. Based on successful facility testing, MIRA (The Motor Industry Research Association) now recommends the use of AR500 laser sensors for documenting statistics of vehicle crash tests.
AR500 Laser Position Sensor
The AR500 is a compact triangulation laser sensor that excels in its versatility. The AR500 is available with measurement ranges from 5mm (0.2 in.) to 1000mm (39.4 in). The red or blue laser is available with an assortment of power options (from Class 2 to 3B) for applications that require a brighter laser. A factory installed internal heater, air jacket, or splash guard is available for challenging environments.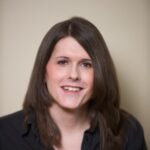 Sarah has been our technical support and sales engineer for 5+ years. If you've ever reached out to Acuity Laser for tech support, more than likely, Sarah is the one who helped you.