In the metal industry, rolled strips are wound into coils for transportation and later unwound to be processed. In both cases, it is important to know how much material is present in the coil. Laser rangefinders can be mounted perpendicular to the coil surface. If the distance from the sensor to the roll core is known, a single laser rangefinder can be used to monitor the change in distance from the roll core to the sensor, giving way for diameter calculation measurements.
Laser sensors are suited for this type of diameter measurement because they can be installed at a safe distance far away from the coils. The coil diameter can be accurately measured despite harsh environmental conditions and bright, reflective targets.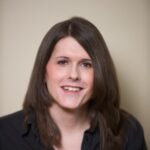 Sarah has been our technical support and sales engineer for 5+ years. If you've ever reached out to Acuity Laser for tech support, more than likely, Sarah is the one who helped you.