For distance measurements on hot surfaces or in bright lighting conditions, the Acuity AS2100 series is superior to previous Time-of-Flight lasers. Acuity's laser measurement sensors are optimized to be easily integrated into industrial automation systems and measurement systems which allows them to be used in many outdoor and difficult applications. A few of the benefits of the AS2100 serious include:
High accuracy of ± 1mm and measurement frequency up to 250Hz in optimal conditions
Broad range of measurement with a range of up to 100m (328 ft) for natural targets and Acuity reflective targets up to 500m (1640 ft)
Ability to measure in bright lights including outdoor measurements
Distance measurement on hot surfaces like hot steel
Standard RS232, RS422, and analog interfaces for easy integration into industrial systems
Convenient data display options
The best applications for the AS2100 series from Acuity Laser include environments with high light levels or hot surfaces and requiring high accuracy at speeds up to 250 Hz.
AS2100 Accurate Distance Sensor
The AS2100 is a highly accurate laser distance sensor that is designed to work well outdoors, in bright lights, and even on difficult targets such as hot or dark surfaces. With the ability to take accurate measurements (± 1 mm) from distances up to 500 meters away, and a measurement frequency of up to 250 Hz, it is the perfect laser for a wide range of applications.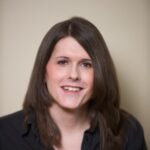 Sarah has been our technical support and sales engineer for 5+ years. If you've ever reached out to Acuity Laser for tech support, more than likely, Sarah is the one who helped you.