Laser Height Pole System Measures Overhead Structures at Highway Speeds
Whether your business is a pilot car service, permit service, trucking service, house mover, or crane and utility company, effectively moving oversized loads requires precautionary measures to ensure safety. This is particularly necessary when it comes to route surveys. A crucial element to maintaining precautionary measures in the route survey process is ensuring proper overhead height measurement. One missed or improper height measurement can lead to devastating oversize load accidents.
In fact, many states now require a route survey prior to granting a permit to move an oversized load. Without the proper equipment, many customers are forced to get on the highway with a survey pole and physically measure an overhead wire or bridge to see if the load will clear it. Stopping at every overhead object to physically measure the height is a very time consuming process that can result in various inaccuracies that lead to disasters.
The inefficiency level and safety concerns of the manual mode of physical measurement is the reason we are pleased to have our AR2500 laser sensor integrated with RSA Network's Laser Height Pole measurement system. RSA Network's Laser Height Pole system combines GPS coordinates, software, and our AR2500 laser to quickly scan the highways to use this information to make surveying efficient and accurate. RSA's system collects data from our AR2500 laser sensor and GPS coordinates to allow the operator to enter and store data at highway speeds. The system is able to run GPS at a 5 Hz rate and offer 1,800,000 scans per minute to complete route surveys in a shorter time frame with higher accuracy and higher degree of details.
Acuity's AR2500 laser sensor is a critical part of the patented laser height pole measurement system. The laser is able to find an overhead object ¼ inches in diameter at heights up to 102 feet, all while driving at highway speeds of 70 miles per hour. The sensor is mounted within the system to provide a sampling rate of 30 kHz.  Our Class 1 laser is FAA approved and safe to the human eye, providing the ability for the system to be operated on virtually any road, even by airports.
If you would like to learn more about this application or other laser measurement sensors for a similar application, please contact Acuity Laser.
AR2700 High-Speed Long Range Sensor
Acuity Laser's ultra-compact rangefinder model. This eye-safe rangefinder has a measurement frequency of up to 40 kHz and can measure distances to natural targets up to 70 meters away or to retroreflective targets 270 meters away. This laser is best for applications that demand high sampling rates.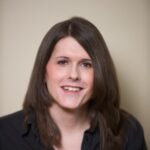 Sarah has been our technical support and sales engineer for 5+ years. If you've ever reached out to Acuity Laser for tech support, more than likely, Sarah is the one who helped you.