The Boeing 787 Dreamliner is the first commercial aircraft built from lightweight composite materials.  Like aluminum structure wings during their development, the composite wings undergo rigorous test. Among those tests, is the "wing up-bend test" which test the mechanical integrity the wing when being displaced upwards.
On March 28, loads were applied to the test unit to replicate 150 percent of the most extreme forces the airplane is ever expected to experience while in service. The wings were flexed upward by approximately 25 feet (7.6 meters) during the test and the fuselage was pressurized to 150 percent of its maximum normal operating condition.
In evaluating the success criteria for the test, Boeing specialists have been poring over the thousands of data points collected during the test to ensure that all parts of the airplane performed as expected. "The airframe performed as designed and retained the required structural integrity. These results continue to validate the design of the 787 as we move toward certification," explained Boeing managers.
Hanging from the end of each wing was an Acuity AR1000 laser distance sensor, mounted on a gimbal to ensure the laser would be pointed perpendicularly to the floor as the wing bent upwards. The AR1000 read the distance from the ends of the wings to the floor. Connected to each laser sensor was a scoreboard display, showing the distance in large numerics that could be read from anywhere in the test area. The lasers can not be seen but the white target area on the floor beneath the wing tips is visible. That was how the 7.6 meter (25 foot) wing flexure was measured, +- 2mm. Visit the 787 Dreamliner Flight Test blog site to see the video of the wing flex test.
AR1000 Laser Distance Sensor
The Acuity AR1000 laser distance sensor can measure up to 30 meters on natural targets and up to 150 meters with a retroreflective target with an accuracy of ± 3 mm. This rugged sensor is built for tough, industrial environments and applications such as fill level measurement and material height monitoring.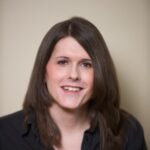 Sarah has been our technical support and sales engineer for 5+ years. If you've ever reached out to Acuity Laser for tech support, more than likely, Sarah is the one who helped you.