A global manufacturer of self-contained drill rigs uses the AccuRange 1000 laser distance sensor to automatically gauge the depth of drilled holes. Their drill rigs are equipped with powerful down-the-hole hammers for high-capacity rock drilling in quarries, opencast mines and construction projects.  The operator, sitting in a climate-controlled cabin, can know the exact hole depth on a digital console display.
The AR1000 has a nearly concentric optics path to measure down narrow holes.  The range is up to 30 meters and the sensor will hold 2 mm of accuracy.  Contact Acuity for more information.
AR1000 Laser Distance Sensor
The Acuity AR1000 laser distance sensor can measure up to 30 meters on natural targets and up to 150 meters with a retroreflective target with an accuracy of ± 3 mm. This rugged sensor is built for tough, industrial environments and applications such as fill level measurement and material height monitoring.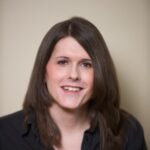 Sarah has been our technical support and sales engineer for 5+ years. If you've ever reached out to Acuity Laser for tech support, more than likely, Sarah is the one who helped you.