Laser Scanners are quickly becoming the tool of choice for profiling translucent materials because they merge the benefits of camera vision systems with the precision measurement of non-contact laser distance sensors. Today's laser scanner technology is leveraged for quick and accurate quality control applications of precision parts.
For example, laser scanners are used to verify weld joints for ample filler metal and gaps. Similarly, engineers choose laser scanners to follow pneumatic sealant or glue dispensers to verify bead presence and dimensions.
While glue beads can be challenging to optical sensors because of their shiny (when wet) appearance, translucent gels can be particularly challenging for profile measurement because the laser light typically penetrates the surface to measure the substrate material. Only the most sensitive scanners can adjust lighting and detector integration quickly and automatically to measure translucent / transparent surfaces.
Recently, a client forwarded Acuity samples of their translucent adhesive material to verify that the AccuProfile 820-20 high accuracy sensor could measure the complex surface atop various substrates.
AccuProfile 820 Laser Scanner
The AP820 2D laser scanner series offer a large selection of case sizes, measuring ranges, and diode/accessory options to be used in a wide range of measurement applications. The 2D/3D sensor performs very well on shiny or jagged targets and in environments with high ambient light. The sensor's auto gain and high dynamic range allow for measurement in complex applications, even edge scanning on sharp targets.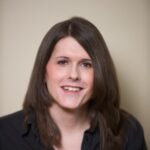 Sarah has been our technical support and sales engineer for 5+ years. If you've ever reached out to Acuity Laser for tech support, more than likely, Sarah is the one who helped you.