A large US manufacturer has an application where they need to align two painted metal surfaces to be parallel to one another very accurately and quickly. By using the AP820-240 model, which has a laser line length of 120 mm, the laser line is place across the 2 metal surfaces.
The 2d laser scanner with the use of the AcuityView software program can measure the angle of the two surfaces to one another. The tolerances of +/- 3 degrees were set in the software and a green button is shown when the two surfaces are in tolerance and the red button is seen when the surfaces are out of tolerance. The gap between the two surfaces can easily be seen and measuring the gap can be done if needed.
AccuProfile 820 Laser Scanner
The AP820 2D laser scanner series offer a large selection of case sizes, measuring ranges, and diode/accessory options to be used in a wide range of measurement applications. The 2D/3D sensor performs very well on shiny or jagged targets and in environments with high ambient light. The sensor's auto gain and high dynamic range allow for measurement in complex applications, even edge scanning on sharp targets.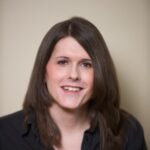 Sarah has been our technical support and sales engineer for 5+ years. If you've ever reached out to Acuity Laser for tech support, more than likely, Sarah is the one who helped you.