Demonstrating the capabilities of the new AccuProfile 820 Laser Scanner at the Quality Expo in Chicago, operators scanned an individual car key to produce an elevation map. The AP820 laser scanner emits a laser line onto a surface or object.
The image of this line is viewed by a high-accuracy CCD array.  Height positions are calculated across this line and transmitted over an Ethernet line to a PC computer.  The 2D-3D laser sensor is moved relative to the key on a small stage.  The linear encoder position of the stage is tracked directly by the scanner head and included in the data stream.  For more information, contact Acuity.
Related Products
AccuProfile 820 Laser Scanner
The AP820 2D laser scanner series offer a large selection of case sizes, measuring ranges, and diode/accessory options to be used in a wide range of measurement applications. The 2D/3D sensor performs very well on shiny or jagged targets and in environments with high ambient light. The sensor's auto gain and high dynamic range allow for measurement in complex applications, even edge scanning on sharp targets.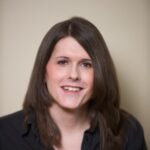 Sarah has been our technical support and sales engineer for 5+ years. If you've ever reached out to Acuity Laser for tech support, more than likely, Sarah is the one who helped you.