The Acuity™ Touch Panel Display is a stand-alone terminal interface for use with Acuity laser distance sensors. These fully-enclosed units replace panel meters, alphnumeric displays and analog controllers by providing a modern interface through a full-color LCD and touch screen. The Touch Panel Display communicates with one or two Acuity sensors using their serial interfaces. Sensors can be easily configured using on-screen buttons to display and scale their distance outputs. Relative dimensions can be measured using a tare function. With dual RS232 serial inputs from two Acuity sensors, the touch panel serves as a thickness gauge and display, an application which previously demanded a PC computer and custom software programming. Using a single RS485 serial interface, the Panel can transmit thickness and dimensional information to external devices.
Overview
OVERVIEW
This unit is ideal for bench top applications in research facilities and industrial panel installations. When panel-mounted, the unit is NEMA-4X (IP67) protected an has keycode-protected lockout features to prevent unwanted tampering. Take a close look at the Acuity Touch Panel Display and realize the benefits of using non-contact optical sensors without expensive programming and integration. Please feel free to contact Acuity for more information after reviewing the technical details of this great new solution.
Technical Data
BENCHTOP AND PANEL-MOUNT CONTROLLER WITH TOUCH INTERFACE
The Acuity Touch Panel Display (now available in 5.7″ diagonal screen size, 4″ size discontinued) is a serial device that accepts up to two RS232 inputs from Acuity brand laser sensors. These serial connections are physically accomplished by attaching the serial wires from the laser sensors to two-part Phoenix contact screw connector: MC 1.5/X-ST-3.81. 12-24 Volts are supplied to the unit through similar terminal connectors.
An intuitive menu sequence guides users through the configuration of the Touch Panel Display to function with the attached Acuity sensor model. Users may select the desired output units and the number of significant digits to be displayed. Through on-screen buttons, one can program offsets, perform tare functions and create alarm limits. Since the unit will accept serial inputs from TWO laser sensors, it can be used to perform dimensional measurement calculations automatically. Users must configure both sensors and designate the proper calibration to a known standard.
The distance is displayed in large, high-contrast characters. The relative ABSOLUTE position of the target is represented by a linear scale beneath the numerical output. The 256-color TFT viewing screen is approximately 5.7 inches (100mm) diagonally.
CONNECTIVITY KIT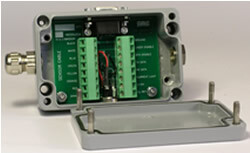 Acuity recommends using Connectivity Kits with Touch Panel Displays to simply the connection of power and data. The Connectivity kit is a simple interface / junction box that will supply DC power to both the laser sensor and the Display with the included AC power adapter (100-240 VAC). The Display kit includes two meters of cable to connect power and serial data from the Connectivity Kit to the Phoenix contacts on the rear of the Display.
FIRMWARE UPDATER
Touch Panel Display owners can update their firmware by connecting the unit's communication port to a PC computer via a USB cable (not included) and uploading the latest versions.
The Touch Panel Display includes one RS485 output which can be used to transmit distance and dimensional data to another device such as a PLC or a data acquisition system. 
RS485 TO RS232 CONVERTER CONNECTION
View the instructions for converting the RS485 interface from the Touch Panel Display to RS232 for simple viewing within a PC computer.
Users of the Touch Panel Display may wish to not only view the readings from the display, but also transmit those readings (or calculations, in cases of thickness measurements using two sensors) to an external device. Each TPD can be configured (see manual for configuration procedure) to transmit via RS485. The 5-block terminal strip on the rear of the TPD is for RS485 communications and each function is appropriately labeled.
The output may be received via a device with an RS485 interface or with a device that has another serial interface when a converter is used. Many times, users may want to view the transmitted ASCII data over an RS232 interface. Acuity suggests using the ATC-105 Isolated RS-232 to RS-422 / 485 Converter from Gridconnect.com.
Only two wires are necessary to connect the TX+ and TX- terminals from the TPD to the converter as illustrated in the photo below. Once these are properly connected, be sure to attach the AC power supply to the ATC-105 converter. Be sure the switches on the ATC-105 are properly set to "DCE" and "485". Once properly connected, you will see a flickering of the "RD" LED signal on the converter. Attach the DB9 connector to the serial port on a computer (or other device) with terminal settings of 9600 baud, 8 data bits, Parity none, Stop bits 1, Flow Control none.
Please complete this form to gain instant access to the item you requested. We respect your privacy and will only use your information to contact you regarding this literature inquiry.
PLEASE COMPLETE THIS FORM TO BE CONTACTED WITH SENSOR PRICING INFORMATION.
Thank you for your interest in receiving Acuity list prices. Our international business has grown considerably and we are no longer able to make pricing available directly through this website. Instead, please kindly complete this form and we will e-mail you a price list. For immediate responses, please call us or your local Acuity laser sensor distributor. Territories not covered by a local distributor are sold directly from our factory in Portland, Oregon, USA. Please note that international pricing may vary due to import costs, taxes, currency fluctuations, etc. View our official product offering (by part number and Acuity model number)
Please complete this form with correct information. We respect your privacy and will only use your information to contact you regarding your product inquiry.
ACUITY LONG RANGE AND HIGH ACCURACY TRIANGULATION LASER SENSORS
June 10, 2016
An existing Acuity customer has asked for a longer range, high accuracy laser triangulation single spot laser sensor to measure deflection. To keep the laser out of an area that can damage the laser sensor we created the AR700-2 Long range model. This AR700 model has the same footprint as the AR700 compact unit (similar to the…
WOODEN DOOR ON-LINE THICKNESS MEASUREMENT
February 19, 2016
One of Acuity's customers manufactures wooden door at a rate of over 4,000 doors a day. The quality, fit and finish of the door must be as perfect as possible. One of the issues doors can have is that they are too thick or too thin for a good fit in the door jamb. This…