AR500 LASER POSITION SENSOR
The AccuRange 500 Laser Position Sensors are fast and accurate measurement devices for integrated industrial measurement systems. Available up to ranges of 1000 mm, all models use a compact enclosure. These sensors are available with optional BLUE laser diodes.
Overview
OVERVIEW
AR500 Laser Position Sensors use triangulation measurement principles to gauge distances to targets with great accuracy and speed. Fitting in the palm of your hand, the unit's size is ideal for builders of compact machines and systems.
Laser position sensor models range from 5 to 1000 mm of measurement range and all models share the identical case size. The AR500 is similar in size to the AR200 but has longer ranges, up to 1000 mm. It is fast like the AR700 laser displacement sensors at 9400 Hz but all AR500 sensors share the identical case size.
The AR500 Laser Position Sensors are the only Acuity models available with optional blue laser diodes.
Highlights:
Range from 5 to 1000 mm
Speed up to 9,400 Hz
Resolution of 0.01% of range
Available with optional blue laser diodes
Operating Temp: -10 to 60°C [14 – 140°F]

-30°C with optional heater; to 120°C with optional air-cooling
Technical Data
TECHNICAL DATA
The AccuRange 500 laser position sensor uses optical triangulation principles to accurately and quickly measure distances to targets. Available with many different diode options, the AR500 can measure to nearly any kind of target: dark, shiny, bright, opaque, translucent, etc.
HOW IT WORKS
A diode within the sensor projects a beam of visible (or optionally, infrared) laser light that creates a spot on a target surface. Reflected light from the surface is viewed from an angle by a digital CMOS line scan camera inside the AR500 sensor. The target's displacement is computed from the image pixel data. The result is transmitted via serial or analog interfaces to a computer, display, PC or PLC.
MANY RANGES, ONE CASE SIZE
With nine different available measurement spans, the AR500 series measures from 5 to 1000 mm of displacement. Unlike the AR700 laser displacement sensors, all of these ranges use the identical, compact case size. Fitting in the palm of your hand, the AR500 rivals the tiniest of triangulation sensors available for industrial applications. The small enclosure means a very "sharp" beam path, permitting measurement down narrow tubes and small windows.
RED, BLUE OR IR LASERS
The AR500 comes standard with RED visible laser diodes. The shorter-range models require lower-powers and meet Class 2 laser requirements. The longer-range models are Class 3R and can be optionally ordered with high-power diodes at Class 3B for measuring black surfaces. As an option, all sensors can be ordered with different powers of 405 nm BLUE laser light. These models are idea for measuring to glowing-hot targets, polished metals and glass.
Accessories
CONNECTIVITY KIT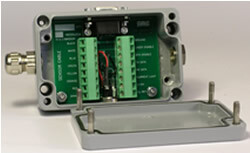 The AR500 laser position sensor comes with an un-terminated bundle of solder tail wires in a shielded cable. As an option, you can add a connectivity interface which provides a terminal block connection to the sensor cable. A second terminal block in the interface box allows user connections as needed.
While this accessory is designed for ALL Acuity sensors, it is important to follow the proper wiring instructions for your particular model. Please contact us today for more information.
A standard 9-pin D-SUB serial cable is provided with the CKit. The interface has a jack to accept the plug from a power supply for 110-240 VAC (US or Euro plugs). The interface box itself is NEMA-4X and has sealed cable glands for feedthrough. A keyswitch interlock version of this connectivity kit is available to satisfy worldwide laser-safety regulations.
INTERFACES
AR500 sensors can be ordered in the following combinations:
RS232 and 4-20mA

RS232 and 0-10V

RS485 and 4-20mA

RS485 and 0-10V

Ethernet and RS232 and 4-20mA
CABLE LENGTHS
The standard cable is two meters in length. One end has the Binder 712 connector and the other is bare wires. Please contact us for custom cable lengths for volume orders.
LASER DIODE WAVELENGTHS AND POWERS
In some instances it is desirable to increase the output power from the sensor's diode or use light of a different wavelength. AR500 models are standard with 0.95 mW 660nm or 4.8 mW 650nm RED laser diodes, depending on the measurement span. You may optionally choose a 20mW Visible RED diode or three different powers of 405nm BLUE laser diodes. Special-order units may also have a 905 nm infrared diode at 20mW.
PROTECTIVE ENCLOSURE
Acuity offers an air-cooled, protective housing for the AR500. It is designed to be used in harsher environments with higher ambient temperature or airborne particles. The maximum allowable ambient operating temperature for the sensor in the protective enclosure is 120°C for air pressure of 6 atmospheres. The sensor is factory calibrated directly in the housing with its engineer glass windows. If the sensor is removed from the housing, it's linearity will be affected adversely.
SPRAY GUARD
Keeping the sensor's windows free of dirt, oil and debris is important to maintaining accurate measurements. Sensors may be installed in a protective enclosure or users may opt to add the Spray Guard to the front of the sensor. This hardware bolts on to the front of the AR500 and creates a "tunnel" for the optical path, preventing indirect splatter from airborne contaminants.
INTERNAL HEATER
The optionally-installed heater expands the operating temperature to -30°C.
Please complete this form to gain instant access to the item you requested. We respect your privacy and will only use your information to contact you regarding this literature inquiry.
PLEASE COMPLETE THIS FORM TO BE CONTACTED WITH SENSOR PRICING INFORMATION.
Thank you for your interest in receiving Acuity list prices. Our international business has grown considerably and we are no longer able to make pricing available directly through this website. Instead, please kindly complete this form and we will e-mail you a price list. For immediate responses, please call us or your local Acuity laser sensor distributor. Territories not covered by a local distributor are sold directly from our factory in Portland, Oregon, USA. Please note that international pricing may vary due to import costs, taxes, currency fluctuations, etc.
Please complete this form with correct information. We respect your privacy and will only use your information to contact you regarding your product inquiry.
LASER RIDE HEIGHT SENSOR
November 11, 2019
Acuity's Triangulation Sensors Used For Ride Height Distance --- Automotive companies must ensure their systems operate at peak performance. Whether it be for vibration, suspension, or any other displacement measurement, the automotive industry demands precise measurement for quality control and testing. When it comes to vehicle dynamics, providing precise ride height measurement from the vehicle…
CRASH TEST LASER SENSORS
September 12, 2012
Engineers of automobile crash tests use a variety of sensors to record a wealth of vehicle information during the last, split-seconds of the controlled impact. Vehicle deformation, accelerations, temperatures, etc, are collected at high speeds and analyzed to determine avenues for improvement in safety. The AR500 laser position sensors have been used by engineers from a vehicle…