AR2500 laser sensors are Acuity's ultra-compact rangefinder models. This eye-safe rangefinder can measure to 30 KHz to natural targets 30 meters away or to reflectors 260 meters away. The AR2500 is also available in module format to system integrators and high-volume OEM customers.
Overview
OVERVIEW
The AR2500 laser sensors are fast, ultra-compact rangefinders for industrial, marine and civil engineering applications. An un-enclosed Module version of the AR2500 is also available.
The laser measuring device measures distance to natural targets within 30 meters. Longer ranges to 260 meters are possible with the use of reflective target boards (3M Scotchlite 3000X). The sensor device has an eye-safe, infrared laser (Class 1).
How does this model differ from the AR1000 or AR3000 rangefinders? The AR2500 is significantly smaller and faster than both. It's measurement range is comparable to the AR1000, but it's Class 1 eye safety is comparable to the AR3000.
Typical applications for the AR2500 laser measuring device include high-speed vehicle height profiling, bridge crane monitoring, trolley positioning and altitude measurements amongst others. It's high sampling rate of 30 KHz makes ideal for scanning applications as well.
The sensor is designed for industrial environments with NEMA-4, IP67 enclosure ratings, permitting the sensor to be directly rinsed with water! Typical data outputs are serial RS232, RS422(optional) and current loop 4-20 mA signals.
For large-volume machine builders, we offer a module version which includes the "guts" of the rangefinder without an environmental enclosure. The module has different power requirements.
Technical Data
TECHNICAL DATA
Acuity's AccuRange 2500 laser sensors employ pulsed time-of-flight measurement principles to measure very long distances at short measurement intervals. The solid-state laser diodes can be pulsed at nanosecond pulse rates and typical accuracies are within a few millimeters.
The AR2500 measures from 0. to 30 m (~10 0 feet) without the use of reflective targets. It measures to natural target surfaces (opaque surfaces) with reflectivity as low as 10. The accuracy of the measurement is typically <10 mm with sample averaging. With a maximum frequency response of 30,000 Hz, the AR2500 sensor is ideal for measuring fast-moving targets such as cars on a highway. It also serves as the engine for multi-dimensional scanners.
For very distant measurements, one can use reflective target material (3M Scotchlite 3000X) to measure between 30 and 260 meters (853 feet). At its furthest ranges, the maximum sampling speed is 16,000 Hz.
The single laser diode is a Class 1, eye-safe 905 nm infrared diode. The small laser spot has a divergence of 3 milliard. Alignment of the sensor to its target is achieved by viewing the infrared reflection through a digital camera screen. CMOS and CCD detectors can see infrared, but the human eye can not.
This laser measuring device comes standard with a RS232 serial interface for communication with a PC computer or PLC (or optionally RS422 which replaces RS232). Also standard is a 4-20 mA current loop output and a two Limit switches for indicating alarms. The linearity of the analog output is commensurate with the serial output. Limit alarms can be useful for triggering an external device when a target reaches a set position.Optional output with the AR2500 is RS422 serial output interface. Data formats are both ASCII and Binary with selectable termination characters. This sensor, much like the AccuRange 4000 series, will also output the sensor's internal temperature and return signal amplitudes in its data stream.
The sensor is ordered with an optional 2 meter (6 ft.) cable with Binder series 713 connector and solder tail wire termination. Users design their own connectors suitable for their application requirements.
A module version (AR2500M) is a stripped-down version of the sensor that has no case enclosure. It is geared for high-volume OEM's who intend to insert the sensor module into a larger housing.
OUTPUT INTERFACES
Acuity offers the following standard and optional outputs for the AR4000 laser rangefinder devices:
Standard RS-232 Serial Output
All sensors come with an RS-232 serial output on the 2m (6 foot), 9 pin cable that connects to PC style serial ports after the user attaches a DB9 connector. Serial output is ASCII and may be configured as either decimal or hexadecimal. The maximum baud rate is 38400 baud.
Optional RS-422 Serial Output
For long distance communications (more than 20 to 30 feet, depending on the baud rate), the RS-232 serial output may be replaced with an RS-422 serial output. The available sample rates, formats and software configuration commands are all the same as for the RS-232.
Standard Current Loop Output
A 4-20 milliamp current output is a standard output for the AR2500 laser distance sensor. The zero and span for the current loop output may be set at any location.. The span point (20 mA) may be made closer than the zero point if desired. The 4-20 mA output has a maximum voltage capability of 10 volts, and it is suggested that a 400 to 500 ohm load be used at the reading instrumentation for best accuracy.
Accessories
The AR2500 laser measuring device is standard with RS232, RS422 and 4-20mA interfaces. The device has an industry-deigned recepticle for a cable, but does not include the cable itself. Below are the product options for the AR2500. Contact us if you have any questions.
CABLES
The AR2500 should be ordered with a 2 m (6 ft.) cable that has a Binder series 713, M12 female connector. The cable has no termination on the non-connector end so the customer must perform their own wires for connection. Longer cable lengths can be ordered upon request
REFLECTIVE TARGET SHEETING
To improve perofrmance within 300 meters and to extend the measuring range to 3 Km, use a retroreflective target for the highest luminance and reliable reflection. These targets will reflect the 905nm laser light directly back to the sensor. Acuity sells portions of this reflective sheeting in 2″ X 12″ (51 mm X 310 mm) pieces.
OEM MODULE
Do you have a high-volume application that requires a laser
sensor to measure distance? Will you install the the sensor module inside your own enclosure? Consider the AR2500M (module) for original equipment manufacturers. The module has the same performance as the standard AR2500. The sensor uses a CMOS-level serial interface. The wire connections to the board are accomplished through terminal block. The power requirements are also different.
OEM modules require a minimum order quantity of 50 pieces.
POWER AND DATA CONNECTIVITY KIT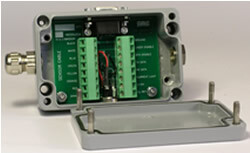 The AR2500 laser sensor comes with an unterminated bundle of wires in a shielded cable. As an option, you can add a connectivity interface. The Power and Data Connectivity kit inlcudes an AC wall-mount power supply, an RS232 cable with DB9 connector and a solid-state, NEMA-4X interface box. The interface box includes two sets of terminal blocks for simple input (from sensor) and output (to your selected device). The interface box has an inlet for the power supply and a serial port. The power unit is a AC power supply takes 120V, 60 Hz. and delivers 15VDC at 600 mA offered only with a US recepticle plug. A 240 V version is available with an euro-style plug. Follow the instructions for connecting the AR2500 cable to the terminal blocks of the Connectivity Kit.
Please complete this form to gain instant access to the item you requested. We respect your privacy and will only use your information to contact you regarding this literature inquiry.
PLEASE COMPLETE THIS FORM TO BE CONTACTED WITH SENSOR PRICING INFORMATION.
Thank you for your interest in receiving Acuity list prices. Our international business has grown considerably and we are no longer able to make pricing available directly through this website. Instead, please kindly complete this form and we will e-mail you a price list. For immediate responses, please call us or your local Acuity laser sensor distributor. Territories not covered by a local distributor are sold directly from our factory in Portland, Oregon, USA. Please note that international pricing may vary due to import costs, taxes, currency fluctuations, etc.
Please complete this form with correct information. We respect your privacy and will only use your information to contact you regarding your product inquiry.
LASER HEIGHT POLE MEASUREMENT
March 19, 2020
Laser Height Pole System Measures Overhead Structures at Highway Speeds Whether your business is a pilot car service, permit service, trucking service, house mover, or crane and utility company, effectively moving oversized loads requires precautionary measures to ensure safety. This is particularly necessary when it comes to route surveys. A crucial element to maintaining precautionary…
MEASURE OVERHEAD STRUCTURES AS SMALL AS 1/4 INCH AT 65 MPH WITH ACCURACY
May 1, 2015
A new product from RSA Network Inc. now allows a height measurement to be obtained for objects as small as 1/4" in diameter at 65 miles per hour. After years of research and development, it is now possible to measure the height of overhead structures and objects as small as 1/4" inch in diameter at…