AR200 LASER MEASUREMENT SENSOR
The AR200 laser distance measurement sensor is Acuity's most compact product to employ a CMOS detector. Five metric models satisfy precision measuring requirements from 6 mm to 100 mm with up to 12 micron accuracy.
Overview
OVERVIEW
The AR200 group of laser measurement sensors is one of Acuity's most compact series of triangulating laser displacement sensors. Five models cover metric measurement ranges from six to one hundred millimeters.
These laser measuring devices aim a Class 2 visible laser spot onto your target to accurately gauge its distance. Designed to withstand difficult industrial environments, the AR200 laser sensors are commonly used in forest products, medical and high tech industries.
Although the AR200 laser measuring tools use metric nomenclature, the spans are in fact quarter, half, one, two and four inches for the -6, -12, -25, -50 and -100 models, respectively. All models boast a 0.03% resolution across their entire measurement span.
All models are standard with Analog, Limit Switch and Serial outputs. The AR200 sensor is the only sensor of its kind to feature push-button selection of these output signals. Additionally, these laser sensors can be programmed using serial commands through a PC computer.
Highlights:
Ranges from 6 mm to 100 mm
Linearity to within +/- 0.2% of range
Resolution to within 0.03% of range
Speeds up to 1250 Hz (samples per second)
Technical Data
TECHNICAL DATA
The Acuity AR200 laser measurement sensors project a beam of visible laser light that creates a spot on a target surface. Reflected light from the surface is viewed from an angle by a CMOS line scan camera inside the AR200 sensor. The target's distance is computed from the image pixel data. The AR200 can not be overloaded and measures accurately even when a mirror reflects the entire light beam back to the detector. This measurement principle is called triangulation. The signals are processed digitally and output on an RS232 line or are converted to an analog signal.
Although the AR200 laser measuring tools use metric nomenclature, the spans are in fact quarter, half, one, two and four inches for the -6, -12, -25, -50 and -100 models, respectively.
AR200 laser sensors are fast as well as accurate. The maximum sampling speed of the AR200 sensor is 1250 samples per second with a resolution of 0.03% of the measuring span. The AR200 is standard with many digital and analog outputs.
This Acuity model can only withstand temperatures to 50°C. Under some application circumstances, the AR200 laser measurement sensor can be used to measure to glass.
OVERVIEW OF DATA OUTPUTS
The AR200 laser measurement sensor is a digital device that includes several digital outputs. These outputs include RS-232. After an on-board digital to analog conversion, the sensor also offers a 4-20 mA signal, a 0-10 V signal and two limit switches. Operators select the output by activating push buttons on the sensor's interface panel or through software instructions.
Standard RS-232 Full Duplex Serial Output
All sensors come with an RS-232 serial output on a 6 foot, 9 pin cable that connects directly to PC style serial ports. Transmission rates are adjustable between 1200 to 230K baud. Serial output can be configured for one of several data formats. ASCII may be used for visual reading with a terminal device or emulation program, or a binary format can be used with application software. Using binary output, data transmission is 3 bytes / sample, 0 – 50K over full scale span and Hex FF terminated. ASCII output format is up to 11 bytes/sample.
Standard Current Loop Output
A 4-20 milliamp current output is also standard. The zero and span for the current loop output may be set at any location. The span point (20 mA) may be made closer than the zero point if desired. The 4-20 mA output has a maximum voltage capability of 10 volts, and it is suggested that a 400 to 500 ohm load be used at the reading instrumentation for best accuracy.
Standard Voltage Output
A 0-10V voltage output is standard on the AR200 laser measurement sensor. The zero and span points for the voltage output may be set at any location within the natural limits of the detector's measuring range.
Standard Limit Switch Signals
Limit switches will output a current of 100 mA if the measurement exceeds the limit switch. This current can be used to trigger external features such as secondary processes, audible and visible alarms or other PLC operations. Includes two NPN (sinking) and PNP (sourcing).
Procedure for connecting a 9 pin serial plug (DB9) to an AR200 laser sensor
This document clearly illustrates the appropriate procedure for connecting a female DB9 connector to the bare wires of an AR200 laser sensor for those who do not have the optional Connectivity Kit.
Download the RS232 connection procedure for the AR200 – File Size 245 KB
ACCESSORIES
SENSOR OPTIONS AND ACCESSORIES FOR THE AR200
Optional products for the AccuRange 200 laser measurement sensor include a power / data connection interface, an alphanumeric display, a useful software developers kit and specialty cable lengths.
The Acuity™ Touch Panel Display is a stand-alone terminal interface for use with Acuity laser distance sensors. These fully-enclosed units replace panel meters, alphnumeric displays and analog controllers by providing a modern interface through a full-color LCD and touch screen. The Touch Panel Display communicates with one or two Acuity sensors using their serial interfaces. Sensors can be easily configured using on-screen buttons to display and scale their distance outputs. Relative dimensions can be measured using a tare function. With dual RS232 serial inputs from two Acuity sensors, the touch panel serves as a thickness gauge and display, an application which previously demanded a PC computer and custom software programming. Using a single RS485 serial interface, the Panel can transmit thickness and dimensional information to external devices.
POWER AND DATA CONNECTIVITY INTERFACE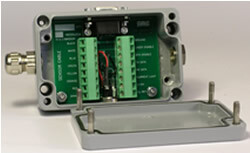 The AR200 laser measurement sensor comes with an unterminated bundle of wires in a shielded cable. As an option, you can add a connectivity interface. This product includes an AC wall-mount power supply, an RS232 cable with DB9 connector and a solid-state, NEMA-4X interface box. The interface box includes two sets of terminal blocks for simple input (from sensor) and output (to your selected device). The interface box has an inlet for the power supply and a serial port. The power unit is a AC power supply takes 120V, 60 Hz. and delivers 15VDC at 600 mA offered only with a US receptacle plug. A 240 V version is available with an euro-style plug.
Please complete this form to gain instant access to the item you requested. We respect your privacy and will only use your information to contact you regarding this literature inquiry.
PLEASE COMPLETE THIS FORM TO BE CONTACTED WITH SENSOR PRICING INFORMATION.
Thank you for your interest in receiving Acuity list prices. Our international business has grown considerably and we are no longer able to make pricing available directly through this website. Instead, please kindly complete this form and we will e-mail you a price list. For immediate responses, please call us or your local Acuity laser sensor distributor. Territories not covered by a local distributor are sold directly from our factory in Portland, Oregon, USA. Please note that international pricing may vary due to import costs, taxes, currency fluctuations, etc.
Please complete this form with correct information. We respect your privacy and will only use your information to contact you regarding your product inquiry.
This software is used to quickly and easily view the distance readings from your sensors. The graphical user interface makes it simple to configure most serial settings. The software includes a charting feature as well as an archiving function which saves all data to a text data file. This data can be quickly imported into Excel® for charting and interrogation.
The software is contained in a compact ZIP file that you must download and installed on your PC computer. Unlike previous versions, this software will work with both Windows® XP, Vista and Seven (32 or 64 bit, running .NET Framework 2.0). This software is for simple demonstration purposes only. Full configuration of the sensors can be achieved through Windows® HyperTerminal. See your User's Manual for more information.
This software was developed by Custom Lab Software, an expert integrator of Acuity equipment. If you have questions about this software or need software development for your own application, please contact them directly.
ACUITY AR200 DIMENSIONING SOLUTION
April 30, 2018
It is a complicated process to create vision-guided robotics, imaging systems, and dimensioning systems. A lot can go wrong. For a company like Artemis Vision, a machine-vision solution provider out of Denver, Colorado, it is vital to make every design decision count. All the parts in their machine systems must work together to ensure stability…
FLUX DEPTH MEASUREMENT IN BRAZING RODS
June 24, 2013
Flux is a chemical cleaning agent that permits the flow of a brazing or soldering metal on a base surface at high temperatures. Some manufacturers sell brazing rods and brazing wire that contain flux in a hollow core or channel in the metal. The chalky white chemical is liquefied and deposited into the channel of…