AR100 SUPER COMPACT TRIANGULATION SENSOR
The AR100 is one of the most compact triangulation sensors worldwide. The unit uses laser triangulation principles to accurately measure at high speeds. The mini enclosure houses models with ranges from 10 to 500 mm. These sensors are available with optional BLUE laser diodes.
Overview
OVERVIEW
The AR100 group of laser position sensors is Acuity's most compact series of triangulating laser displacement sensors. Six models cover metric measurement ranges from ten to five hundred millimeters for an unique combination of dimensions, performance and operating ranges.
The sensors are perfect for non-contact distance measurement in narrow spaces, and checking of position, displacement, dimensions, surface profile, deformation, vibrations, sorting and sensing of technological objects as well as for measuring levels of liquid and bulk materials.
All models are standard with Analog and Serial outputs to be easily integrated into every application. Additionally, these laser sensors can be programmed using serial commands through a PC computer.
Highlights
Range from 10 mm to 500 mm
Resolution to within 0.01% across the measurement range
Linearity to within ±0.05% of measurement range
Sampling rate up to 9.4KHz (samples per second)
Standard outputs of Analog and Serial
Red or Blue laser diodes options
Technical Data
TECHNICAL DATA
The Acuity AR100 laser position sensors project a beam of visible laser light that creates a spot on a target surface. Reflected light from the surface is viewed from an angle by a CMOS line scan camera inside the AR100 sensor. The target's distance is computed from the image pixel data. The AR100 can not be overloaded and measures accurately even when a mirror reflects the entire light beam back to the detector. This measurement principle is called triangulation. 
AR100 laser sensors are fast as well as accurate. The maximum sampling speed of the AR100 sensor is 9,400 samples per second with a resolution of 0.01% of the measuring span. The AR100 is standard with many digital and analog outputs.
Technical Highlights: 
Lightsource: Red (660nm) or Blue (405nm)
Output interface: RS232, RS485, 4-20mA, 0-10V
Size: 39.5 x 30.5x 17mm
Weight (without cable):40 gram
Housing material: Aluminum
Many ranges, one case size
ACCESSORIES
SENSOR OPTIONS AND ACCESSORIES FOR THE AR100
Optional products for the AccuRange 100 compact triangulation sensor include a power / data connection interface, a useful software developers kit and specialty cable lengths.
The Acuity™ Touch Panel Display is a stand-alone terminal interface for use with Acuity laser distance sensors. These fully-enclosed units replace panel meters, alphnumeric displays and analog controllers by providing a modern interface through a full-color LCD and touch screen. The Touch Panel Display communicates with one or two Acuity sensors using their serial interfaces. Sensors can be easily configured using on-screen buttons to display and scale their distance outputs. Relative dimensions can be measured using a tare function. With dual RS232 serial inputs from two Acuity sensors, the touch panel serves as a thickness gauge and display, an application which previously demanded a PC computer and custom software programming. Using a single RS485 serial interface, the Panel can transmit thickness and dimensional information to external devices.
POWER AND DATA CONNECTIVITY INTERFACE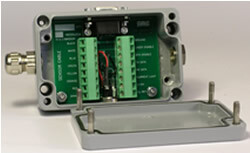 The AR100 compact triangulation sensor comes with an unterminated bundle of wires in a shielded cable. As an option, you can add a connectivity interface which provides a terminal block connection to the sensor cable. A second terminal block in the interface box allows user connections as needed.
While this accessory is designed for ALL Acuity sensors, it is important to follow the proper wiring instructions for your particular model. Please contact us today for more information.
A standard 9-pin D-SUB serial cable is provided with the CKit. The interface has a jack to accept the plug from a power supply for 110-240 VAC (US or Euro plugs). The interface box itself is NEMA-4X and has sealed cable glands for feedthrough. A keyswitch interlock version of this connectivity kit is available to satisfy worldwide laser-safety regulations.
CABLE LENGTHS
The standard cable is five meters in length. One end has the Binder 712 connector and the other is bare wires. Please contact us for custom cable lengths for volume orders.
Please complete this form to gain instant access to the item you requested. We respect your privacy and will only use your information to contact you regarding this literature inquiry.
PLEASE COMPLETE THIS FORM TO BE CONTACTED WITH SENSOR PRICING INFORMATION.
Thank you for your interest in receiving Acuity list prices. Our international business has grown considerably and we are no longer able to make pricing available directly through this website. Instead, please kindly complete this form and we will e-mail you a price list. For immediate responses, please call us or your local Acuity laser sensor distributor. Territories not covered by a local distributor are sold directly from our factory in Portland, Oregon, USA. Please note that international pricing may vary due to import costs, taxes, currency fluctuations, etc.
Please complete this form with correct information. We respect your privacy and will only use your information to contact you regarding your product inquiry.
ACUITY LONG RANGE AND HIGH ACCURACY TRIANGULATION LASER SENSORS
June 10, 2016
An existing Acuity customer has asked for a longer range, high accuracy laser triangulation single spot laser sensor to measure deflection. To keep the laser out of an area that can damage the laser sensor we created the AR700-2 Long range model. This AR700 model has the same footprint as the AR700 compact unit (similar to the…
FLUX DEPTH MEASUREMENT IN BRAZING RODS
June 24, 2013
Flux is a chemical cleaning agent that permits the flow of a brazing or soldering metal on a base surface at high temperatures. Some manufacturers sell brazing rods and brazing wire that contain flux in a hollow core or channel in the metal. The chalky white chemical is liquefied and deposited into the channel of…